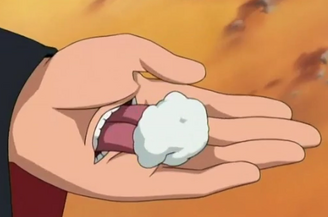 Explosive Clay
[1]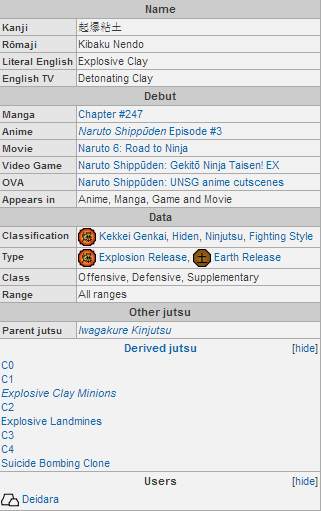 This technique was developed from a forbidden technique that Deidara stole from Iwagakure. By using the technique's ability to knead chakra into objects through the mouths in the palms of his hands, Deidara can infuse clay with
explosive chakra
. He then moulds it into a shape depending on the abilities he wants it to have and spits it out. After moulding the clay, Deidara can enlarge it to various sizes depending on the intended purpose of the clay. Once enlarged, the clay creations can be brought to life and controlled remotely by Deidara, who can then detonate the clay by saying "katsu" (喝) and performing the seal of confrontation. Though the explosives are powerful, they are all earth-based techniques, and as such, can be defused by a lightning technique.
Clay Ranking
Edit
Deidara ranks his clay by number in a fashion similar to the C-4 explosive, the weakest being C1 and the most powerful being C4. The other clay ranks are much more dangerous than C1, and any foe that sees Deidara use any rank higher than C1 is usually one Deidara sees as a worthy opponent:
Deidara has at one time claimed he possesses the Explosion Release (爆遁, Bakuton),[2] which suggests his explosive clay techniques are variations of this nature, despite earlier establishment that his techniques are earth-natured. However, this very statement may suggest the earth nature is a component of Explosion Release chakra or that explosive clay is a combination of Earth Release — the clay — and Explosion Release, merged together with the Iwagakure kinjutsu Deidara stole.
"Katsu" (喝) is a type of shout that is used in Zen Buddhism to stop the discursive thoughts of practitioners, potentially helping them achieve an enlightenment experience. It is also used as a means of focusing energy.
References
Edit
↑

Third Databook, pages 244-245

↑

Naruto chapter 514, page 13